Solutions
DeepTruth's multi-patented certification and verification technologies are the new standard for legitimacy. Remove any chance of doubt or dispute in your media records for good. As an adaptable, private and, most importantly, foolproof system to guarantee unquestionable authenticity of videos, images, audio and more, DeepTruth represents the end of the line for the uncertainty that accompanies potential deceit and manipulation. Find a solution that best fits your needs or contact us for more information.
How It Works
DeepTruth technologies protect the truth by creating unalterable certified media during recording, not after. All media is mapped in real-time with digital fingerprints at 30 times per second, then layered with over 90 dimensions of electronic metadata.
The digital fingerprints are recorded and their chain-of-custody is preserved in blockchain, making them impossible to modify. When it comes time to verify authenticity, DeepTruth fingerprints any media you view and compares them to the originals. If anyone attempts to edit a single pixel, modify a sound bite, or change any of the metadata of your recording, DeepTruth will let you know it has been altered.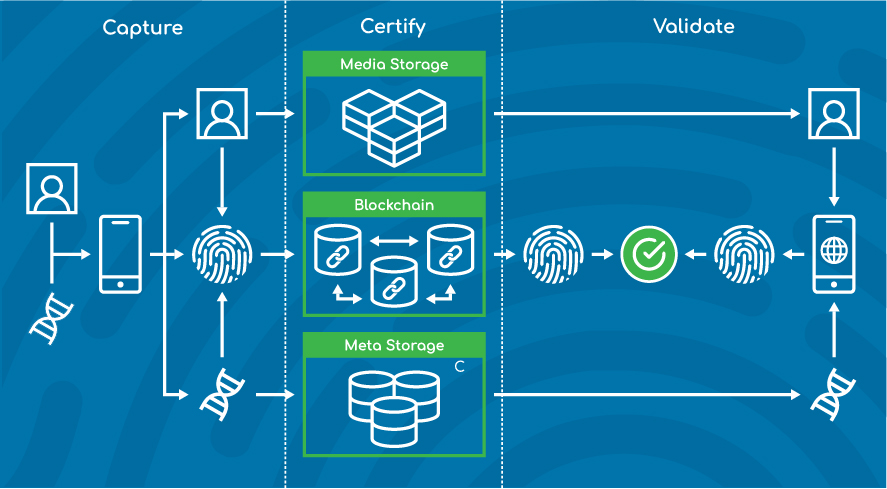 White Label Solution
Manage your own system that creates a single source of indisputable truth for legal evidence, mediation, copyright protection and so much more. This customized solution will include top-to-bottom functionality to capture, certify, safeguard and store records without sacrificing privacy or proprietary information.
The potential to secure media and the all-important context behind when, how and where it was created, is perfect for any private holding or a cooperative industry clearinghouse that requires legitimacy in its business processes.

Embedded Solution
Insert DeepTruth into your app or other business software to establish new levels of confidence in sharing information with your clients, customers and partners.
Transform the claims process with certified images, videos and audio to ease customer service and prevent fraud. Contextual metadata shows how, when and where a piece of media is created, eliminating human error.
The same process protects IP, copyright infringement and can give a definitive account in fighting plagiarism.
DeepTruth blends seamlessly into your app or software interfaces and provides no extra steps for users. They can shoot photos, record video or capture audio as they normally would. DeepTruth will do the rest.

System Solution
Not all media is created on a smartphone. DeepTruth can take footage, audio and images from internal systems and certify their authenticity.
Security or other monitoring systems are certified at the moment they reach a network connection, safeguarding the substance of the media along with the contextual metadata proving the time, place and manner in which it was created.
Body cameras, surveillance audio and corporate security systems immediately benefit any organization ready to add an extra layer of credibility to recordings.
In an age of DeepFakes and other fake media, video and audio evidence is not enough. Add the protection you need by certifying the authenticity of all your media.
Apps
Free to download and ready to use, the DeepTruth apps brings individuals security and confidence in protecting relationships, reputations and business.

The solutions leverage the patented DeepTruth technologies for video, images and audio. The immediate, thorough and completely private protection offered by these apps make them the best option for those serious about protecting their likeness.
Media never has to leave your phone to be certified by DeepTruth apps, but if you choose to broadcast your own proof of the truth there is a robust series of options to share with individuals or to post on the VideoLock website.
Download the app today.